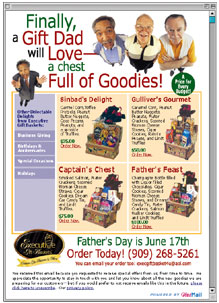 This is a sample of the NetMail we produced for Executive Gift Baskets. Click on the image above to see an enlargement.
Executive Gift Baskets (EGB) sells unique compilations of food and drink to corporations nationwide.

Although he has a thriving business, owner David Wood wanted to increase sales by marketing directly to consumers. He initially planned on a direct mail campaign, but decided to give email marketing a try to gauge ROI vs. direct mail.

David came to NetSurf to plan a campaign using our new NetMail product. As you can see in the sample of the NetMail we produced for EGB, NetMail is a powerful tool that's used to send branded, graphical email. NetMail can showcase your branding, your product or service, and allows your customers to click through to your website to learn more or make a purchase. No direct mail campaign can do that!

NetMail gave David the tools he needed to launch a very successful campaign to increase sales for Father's Day. And increase sales it did. Of the 1,000 people who received EGB's Netmail, 22% placed orders for Father's Day gift baskets, resulting in an additional $14,300 in new business for EGB.
If you'd like to see how NetMail can help to boost your bottom line - fill out our contact form, or give us a call today at (727) 442-1599. Why wait??